Instant Quiz
Can you correct the error in the sentence below? Scroll to the bottom of today's post for the answer.
"Slow down," he told me, "and breath deeply."
_______________________________________________________________________
Today I'm going to talk about a paragraph from the SAT prep website. The subject is Pablo Picasso, a famous twentieth-century artist. The paragraph is an interesting one because the writing is both good and bad.
The world in which Picasso lived was particularly supportive of his developing celebrity. His family cultivated his creative passion, he had clusters of peers who inspired him, and he had the good fortune to be born at a time when new ideas in science, literature, and music energized his work. Moreover, the advent of mass media allowed him to achieve widespread fame.
Here's what's good: the paragraph uses moreover to build towards a climax. That's what professional writers do – and what student writers should practice doing.
Here's what's not so good: too much information is crammed into the second sentence. It talks about family, peers, science, literature, and music. Whew!
This is typical textbook writing. Because there's so much to cover in a semester, information comes at you at lightning speed.
I'm not blaming the College Board for posting this paragraph. But there's a danger if students imitate these examples. The ideas rush by too quickly.
Instructors can help by spending more time talking about emphasis. Students should work on emphasis too. One suggestion is to simply spend more time thinking about it.
An easy first step when you're writing is giving each idea its own sentence. An effective second step is developing each idea with something interesting – an anecdote or an intriguing fact.
Try it!
_______________________________________________________________________
The word you need today is breathe.
"Slow down," he told me, "and breathe deeply."
---
What Your English Teacher Didn't Tell You is available in paperback and Kindle formats from Amazon.com and other online booksellers.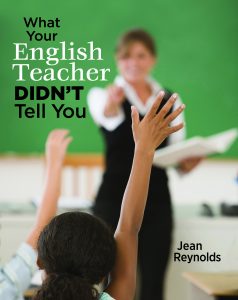 "A useful resource for both students and professionals" – Jena L. Hawk, Ph.D., Mississippi Gulf Coast Community College
"Personable and readable…Jean knows her subject forwards and backwards." – Adair Lara, author of Hold Me Close, Let Me Go