I've just finished reading Merton & Waugh: A Monk, A Crusty Old Man & The Seven Storey Mountain, by Mary Frances Coady. This is a new book about Thomas Merton, a Trappist monk who still fascinates readers almost 50 years after his death in 1968. It's short – under 160 pages – and covers Merton and Waugh's correspondence between 1948 and 1952.
Merton had just published The Seven Storey Mountain, an account of his conversion and decision to become a monk, and Waugh agreed to edit the British edition. The book became a bestseller and is still in print today, to my bewilderment: I don't think it's a great book – in fact I've always found Merton unreadable, despite many attempts to like him. So I was interested in how Waugh responded to Merton's writing in those early years.
Waugh's advice turned out to be quite ordinary. (Apparently I'm the only person in the world who doesn't think Merton was a great writer. Sigh.) One problem Waugh noted was Merton's inconsistent style, which seemed to jump back and forth from lofty to slangy. Another problem was Merton's tendency to repeat himself. 
Waugh also dealt at some length with Merton's apparent confusion about who his audience was. In a later letter, Waugh complained that The Ascent (Merton's examination of mysticism), seemed to be addressing skeptics in one section, advanced students of mysticism in another, and at least two other groups of people in other portions of the book.
I said earlier that I've always found Merton unreadable. That's not entirely accurate. After Merton's death, the monastery released a collection of posthumous essays called Contemplation in a World of Action. It is…readable, wise, and profound.
So I am wondering if Merton became a spiritual bestseller in spite of his spirituality, not because of it. The voice in those early books is honest and real, and you can hear it in both The Seven Storey Mountain and the letters to Waugh, where Merton complains about the monastery ("a three-ring circus"), censorship, and his publisher's policies and practices. Merton also talks about saying Mass and praying the rosary, but I never get a sense of him as a man steeped in spirituality.
I'm not saying that he wasn't holy, but I suspect that the Trappist spiritual tradition never really worked for him, and that's why he couldn't write about it in a believable way. But the voice was so powerful that people kept buying Merton's books anyway.
It seems to me that in Contemplation in a World of Action, Merton finally could say the things he believed in. He talked about the alienation and anxiety that often characterized monastic life, and the ways in which the Trappist tradition – ironically – suppressed the work of the Holy Spirit instead of encouraging it to flourish.
Waugh never noticed any of those problems. One reason, of course, is that he had no experience of monastic life himself. Another reason is that Waugh was beset with his own spiritual difficulties.
Early on he used Merton as a kind of father confessor (even though Merton was about 12 years younger and not yet ordained). Here are the spiritual problems that Waugh discussed in his letters: the absence of loving feelings for his children, his indifference to others, a streak of cruelty, and a lack of remorse or guilt about his failings.
I don't know if Waugh was ever able to resolve his spiritual problems, but I know where Merton ended up: At a conference center in Bangkok, Thailand, where he had made a presentation at an interfaith conference. Describing himself as "laicized and deinstitutionalized," he was no longer trying to live within the strict confines of the Trappist tradition.
Merton died in his room at that conference center, apparently electrocuted by a malfunctioning fan. We can only wonder what his next adventure would have been.
The hour or so I spent reading the correspondence between Waugh and Merton reinforced two of my essential beliefs about writing: Have something important to say (I think Merton took many years to get there), and have a voice (it was there for Merton right from the beginning).
After finishing the book, I got out my copy of Contemplation in a World of Action and reread "Final Integration" (my book opened to it immediately – it's my favorite essay in the book). It's as fresh as ever. I'm glad Merton lived long enough to discover new ways to integrate spiritual traditions from all over the world – and I'm sorry that Waugh apparently stayed stuck in the same spiritual problems for the rest of his life.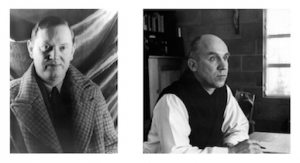 Evelyn Waugh and Thomas Merton