Instant Quiz
Can you correct the error in the sentence below? Scroll to the bottom of today's post for the answer.  
 For desert we all ordered strawberry shortcake.
---
I just read an article that clears up some confusing points about apostrophes.  I wish I could say I'm pleased, but I'm not. I have a feeling I'm going to be cranky all day.
Here's what's bothering me: The author wants us to use the term pronomial pronouns. That's supposed to help us remember a group of apostrophes that never get apostrophes: his, hers, yours, ours, theirs and its.
Why make apostrophes so complicated? I have a Ph.D. in English, and I can't remember ever seeing the word pronomial before.
I'm going to suggest a much simpler way to learn how to use these pronouns. Here it is: Think about the word his. No apostrophe, right?
All these pronouns (his, hers, yours, ours, theirs and its) work the same way: no apostrophe.
These examples are correct:
That book is his, not hers. 
The dog buried his bone.
The dog buried its bone.
His is the blue Subaru.
Ours is the blue Subaru.
If the wallet is yours, you can claim it in the office.
No apostrophes! Easy, isn't it?
__________________________________________________________________________________________________
Instant Quiz ANSWER
If you missed today's Quiz question, you're in good company. I often struggle with double letters. Is it desert – or dessert?
Here's a trick I use. When I have dessert, I always order coffee with two sugars. That helps me remember that I need two s's. (A desert is a dry, barren place that's usually full of sand.)
There's an even easier way to get this right: Turn on your spellchecker!
For dessert we all ordered strawberry shortcake.  CORRECT

---
What Your English Teacher Didn't Tell You is available in paperback and Kindle formats from Amazon.com and other online booksellers.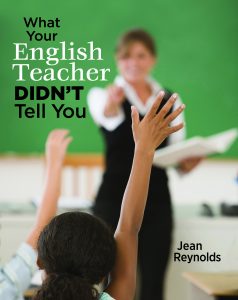 "A useful resource for both students and professionals" – Jena L. Hawk, Ph.D., Mississippi Gulf Coast Community College
"Personable and readable…Jean knows her subject forwards and backwards." – Adair Lara, author of Hold Me Close, Let Me Go